Mini Metal Lathe Machine 7x14 Benchtop Digital Display 550W Variable Speed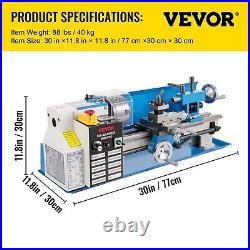 7"x14" Benchtop Metal Lathe. 2500 RPM & 550W DC Single Phase & High Efficiency. The precision lathe mill machine features a powerful motor. Upgraded metal gear and hand wheel can prolong the service time.
LED light helps you work on the dim surroundings. It's designed for turning, drilling, and threading. Tough Equipment & Tools, Pay Less. VEVOR is a leading brand that specializes in equipment and tools. Along with thousands of motivated employees, VEVOR is dedicated to providing our customers with tough equipment & tools at incredibly low prices.
The aluminum handwheel is more durable. A digital display screen is convenient for you to follow up the processing. LED light can help you finish the work in gloomy places.
This upgrade metal lathes use metal gear instead of nylon, which significantly increases service life. The milling machine can adjust the speed from 0-2500rpm by the knob. Spindle adjustable rate for multiple workings. The 4-way tool post is contributed to providing greater control of your work. Open the lock and change the tool with a slight turn.
You can move the tailstock forth and back by losing the fixed handle. The MT2 dead center can be adjusted by a loose quill lock and turn tailstock handwheel. Power of Motor: 550W DC Single Phase.
Swing Over Bed: 7.09 / 180 mm. Center Distance:13.78 / 350 mm. Metric Thread: 0.5-2.5 mm.
Voltage: 220V / 50Hz for RU EU, 110V / 60Hz for US CA MX. Product Size: 30" x 11.8" x 11.4. Net Weight: 40 kg / 88.18 lbs. 1 x Mini Metal Lathe. 1 x A Set of Accessories.
: Ideal for professionals, this power metal lathe's high-precision 4-inch 3-jaw chuck handles both square and round objects with equal aplomb. It's especially suitable for jobs requiring high accuracy, such as threading.
: This metal working lathe cranks out 550W and handles small to medium projects. It provides a 7.09" / 180 mm swing over bed and 13.78" / 350 mm center distance so that you can manage more extensive projects. : This small metal lathe uses metal gear instead of a nylon one. Aluminum handwheel can increase service life.
Automatic power-off protection switch to make it safer. An extra LED lamp can help you finish processing in places with insufficient light.
: The lathe's rotational speed can be set from 50 to 2500rpm and monitored by the digital display; the well-crafted head and tail stocks, large through-hole, and 4-way tool post also contribute to providing greater control of your work. : 4-way quick change tool post can install 4 standard turning tools at the same time. You can adjust tool post forwards/backward by turning blade adjusters with accurate scales clockwise/anticlockwise.