Mini Metal Lathe 1 hp Servo Motor 115V 750W Kit 2 speed Grizzly Harbor Freight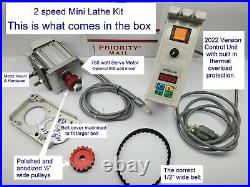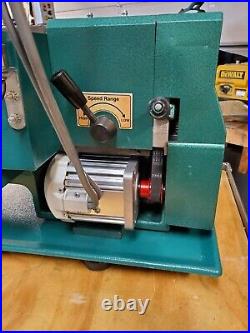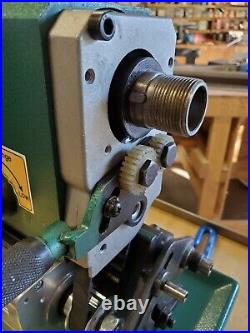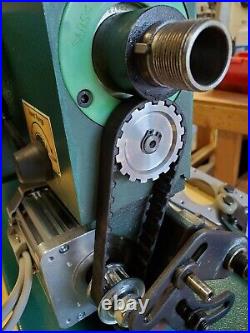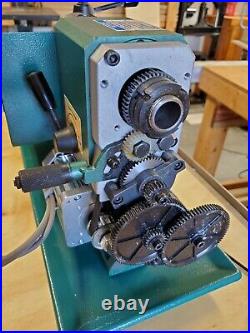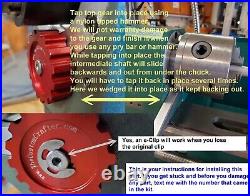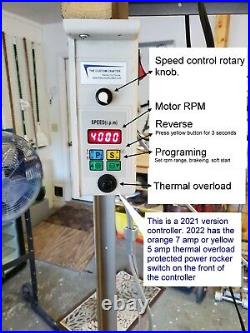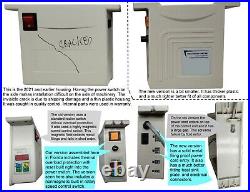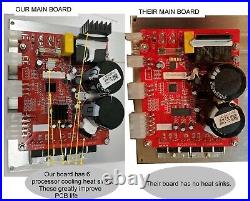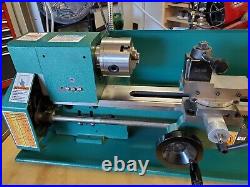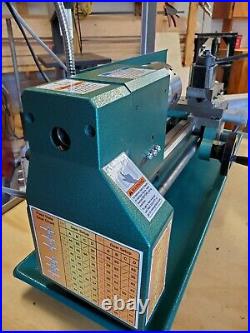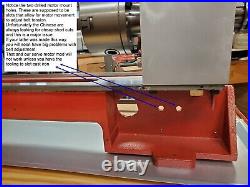 1 HP 750 Watt Computer Controller and Matching Servo Motor for two speed Mini Metal Lathes. See my store for a different system that fits single speed spindle drive mini lathes. New parts installed and tested. Most parts show install and remove marks from testing to insure they are fully functional. Includes machined in Florida adapters and mounts.
And tested on the below models. Grizzly G8688 7" X 12" Two speed and only versions with high low gear. Klutch (Northern Tool) 7" X 12" Two speed and only versions with high low gear. 7" X 14" Two speed. Grizzly G0765 and all 7" x 14": This lathe has a different belt cover.
It is very close but not the same. Other 7" X 14" two speeds likely have this slightly different belt cover as well.
For now I would suggest asking for a price without the cover and plan on machining your own cover. In the original motor location of the above 2 speed mini metal lathes. Of all threading gears and auto feed systems. Each one is custom built when you order.
When the build is complete, it will be tested for 20 minuets. Any defects found during testing will require a complete new build. All parts required to build are In stock.
That means if it is listed as available, it is because we have enough parts to build at least two. We also stock extra parts in case of. Kinda like replacing the small block with a big block in your Mustang/Camaro muscle car. Just pure power, so much so that you will never use all of it.
This system provides full power at any speed and that includes Spindle RPM's as low as 50 RPM's in low gear. You may want to consider the high low gears inside the head and at least lube them with a high end sling free grease. Motor and spindle speeds + Reverse. The motor speed can be.
And or full range can be achieved with just the speed control rotary knob on the. Only requires a few easy steps. Reverse is simple, just hold the yellow button for a few seconds. Includes the ability to set bottom and top RPM range separately. In other words you can program the system to run the spindle at any speed or range of speeds you choose (see below). Slowest speed achievable: Motor 300 RPM.
Highest speed this one produced: Motor 4000 RPM. RPM: 100 to 4,500 RPM in 100 RPM increments. See it (prototype 1 from 2 years ago is a 7 X 14 single speed) running. On You Tube search for. Mini Metal Lathe 1 HP Servo Motor 750 Watt Computer controlled with threading and gears.
Same username The Custom Crafter. I will do a video on this system as soon as I can find the time to do it. This listing is for a fully alpha tested system. A new 750 watt motor like the one seen here in photos. Motor will come with the motor mount installed This will require adjustment to fit your lathe.
It will also come with the small timing pulley installed on it using a 4mm key-way and main shaft nut. A new 2022 control computer with internal speed control. This control unit is built by The Custom Crafter. It includes a thermal overload system with reset function.
Make note: Color of the reset rocker switch is orange or green. If it is not, it does not have thermal overload protection. The Custom Crafter made in the USA motor mount. (installed on motor, see line 1).
Mounting hardware includes thick washers and grade 8 nuts. One anodized aluminum intermediate shaft timing pulley. Machined by The Custom Crafter to fit (see photos). Note: This timing gear is prototype three. I still do considerable filing by hand to insure proper fit and you will see file marks.
One anodized aluminum motor timing pulley machined by the Custom Crafter to fit the motor (see photos). Comes preinstalled on motor (see line 1). Of 100's of already in use systems.
It is the final design and is flawless. A new L050 1/2 wide timing belt. A custom machined belt cover plate to allow for the larger belt. The new 2022 control computer (driver) comes programmed to optimal performance settings for this lathe.
Programming instructions and fault codes are also provided by The Custom Crafter. There will be a text number for direct assistance from the custom Crafter. Assembly requires some technical skill to include minor machine work. Note: Check the photos in this listing.
See the red lathe (image 11). If your lathe has holes instead of the normal slots, this motor will not fit without your ability to slot the cast iron lathe bed. You will need metric and domestic allen wrenches + a 13mm/1/2 deep socket and ratchet. Some shorter/longer/better quality allen head metric bolts (not included) may also be required, especially to clear the timing belt as the belt cover is machined thinner to allow for the larger belt.
This means do not over tighten and check first to make sure your bolts are exactly the right length and thread. This is because many manufactures use inferior bolts.
These inferior bolts will be slightly too long, too short or most common just a few thousands too small in diameter where they will pull and damage threads. This system has so much more power that it becomes tempting to see just how much you can cut in a single pass. Do not do this because the rest of the mini lathe is not built strong/stable enough for this kind of abuse. If you jam it, you may damage the lathe to include broken cutters, parts and the control unit.
All lathes are dangerous, increasing the. To insure fit and proper application. Is suitable for your intended use. Large flat rate box and to USA only. All parts are in stock.
No return authorizations will be issued after the 10 day period. See details, what's covered and for how long etc below. If found to be abuse or missing the.
Or demos that I have from previous builds. Additionally original packaging such as Styrofoam package inserts must be used to return these parts. Note: Cutting too much material will result in a jam.
This may damage the main board. Timing pulleys, motor mount and aluminum adapters.
Timing belt and small parts are not covered. We keep all parts in stock. That means if you break it, we can fix it within days, not months to years waiting for parts from the large US sellers.
Honesty goes a long way. If you smoked it just say so. We will ask a few questions and then sell you the correct replacement parts at discounted prices. Also as I build them, they are improved as I never cut corners to save penny's.
This item is in the category "Home & Garden\Tools & Workshop Equipment\Power Tools\Lathes". The seller is "thecustomcrafter" and is located in this country: US.
This item can be shipped to United States.
Minimum Spindle Speed: 160 estimated
Phase: One Phase
Machine Type: Mini Metal Lathe
Power Source: Home electric outlets
Maximum Spindle Speed: 3,000 RPM estimated
Suitable For: Aluminum, Brass, Cast Iron, Iron, Metal, Plastic, Stainless Steel, Steel
Brand: The Custom Crafter
Model Year: 2023
Type: Lathes
Control: Programmable Speed Control, Manual
Manufacturer Warranty: See description.

Voltage: 120 V ac
Model: 750W spindle drive servo motor upgrade kit