550W 2500rpm Milling Drilling Machine /6 In 1 Metal Mini Motorized Lathe Machine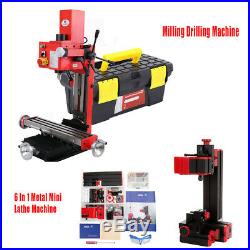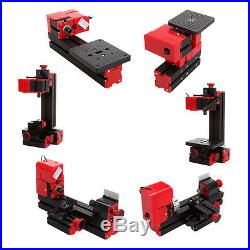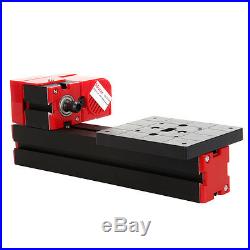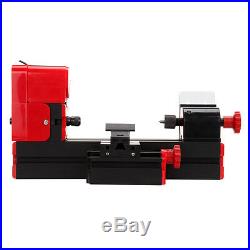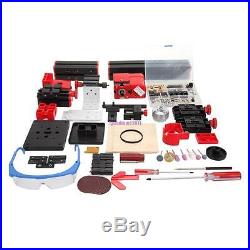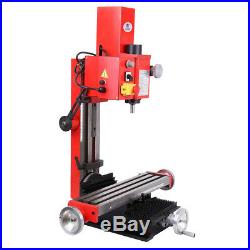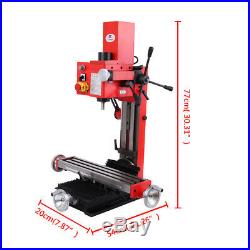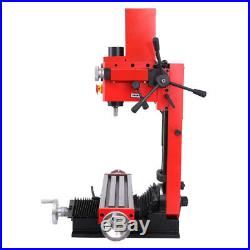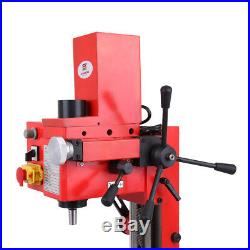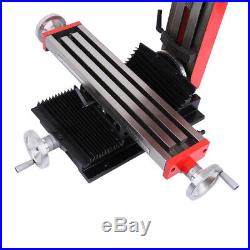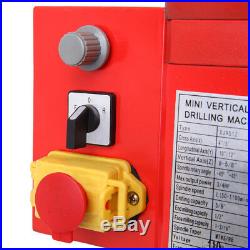 This mini drilling/milling machine with lathe bed can handle most materials. It has a 550watt motor with variable speed drive, The working table with t-slots can enable clamping of workpieces and metric graduated compound scales. The machine also incorporates a tilting column which allows drilling/milling of workpiece at ±90° from vertical. It is supplied with 13mm chuck accessory kit.
The lathe bed is made of high grade iron. The rigidity of lathe, the handness and accuracy of the v-slideways are obtained by raw materials, heat hardening and grinding. This machine is DC motor driven. The spindle speed is variable from 20-2500rpm. The feed speed can be adjusted according to the requirements of different workpieces. Adjustable gibs on table precision. Chuck Arbor Bolt provides tightening of drilling chuck through the spindle. Rack and pinion feed for drilling operations.
Safety guard with microswitch according to EU-requirements. START / STOP switch incorporates emergency STOP. Cross slide:4"/5" 100/130mm. Taper of hole in spindle :MT #3 or R8. End Milling Capacity:5/8 (16mm).
Face Milling Capacity:11/8 (30mm). Working table size: 18.11"x4.41"/46x11cm.
Max distance spindle to table: 8.66/22cm. Dimension: 14.5"x 26.5"x27/37x67x68cm. Replcement of chuck: When replacing the chuck, place a cloth or a piece of wood on the bed way at the bottom of the chuck.
This is to avoid damage to the bed way caused by carelessly dropping the chuck. Loosen the 3 set screws to replace the chuck. Replcement of jaws: There are two types of jaws: Internal and external. Please note that the number of jaws fit with the number inside the chuck's groove. Do not mix them together. When you are going to mount them, please mount them in ascending order 1-2-3, when you are going to take them oit, be sure to take them out in descending order(3-2-1) one by one. After you finish this procedure, rotate the jaws to the smallest diameter and check that the three jaws are well fitted. If you need to reassemble them again as they are not properly assembled.
When you are going yo mount the work piece you need only to loosen one jaw. However, we recommend you loosen the three jaws at the same time.
In this way you can protect them and will not damage the thread inside. Compound rest adjustment: Loosen the two screws. After you have obtained the angle you desire, please do not forgey to tighten them.
Tailstock rest adjustment: When you are going yo change position or replace the tailstock, you need to loosen the nut. Replacement of carbon brushes: Replace the carbon brushed by removing the brush covers both on motor cover. Tool post adjustment: When you are going to asjust the tool post position, you only need to loosen the lever.
After you have finished be sure to tighten. If you are going yo replace the work cutter then you need to loosen the screws with the allen wrench provided. Use the chuck to hold the workpiece firmly, and the cutter to start lath's face cutting(edge of the cutter must be at the same height as the center).
By changing the tool post angle and asjustig the compound rest, you can do internal cutting. After asjusting the angle of the compound rest, you can do bevel cutting.
Use the chuck to hold the workpiece firmly. Then use the center to fix the other end.
If you change the center to drilling chick you can start your drilling immediately. This is a quality mini mill Ideal for the professional engineer or model maker alike. The precision mini lathe is designed to preform various types of processing jobs. Counterface tuming, drilling, threading, and cutting jobs on materials made up of round bar and bar materials can be preformed with this machine. The machine can be used in areas such as mini precision parts processing, sample processing and modeling works.
This machine is suitble to use only from 12°C-35°C53.6-95. 1 X Mini Milling Machine. 1 X Mini milling machine base. 1 X Mini milling machine column.
1 X Tool kit with wrenches. 6In1 Metal Mini Lathe Machine. This 6 in 1 kit can be transformed into six different functional machines including jig-saw machine, drilling machine, sanding machine, wood-turning lathe, milling machine and metal lathe. The base of the machine is made of durable aluminum alloy and the external shell is made of engineering plastic.
Since it can works with wood and acrylic as well as metals such as gold, silver, copper, aluminum, it is perfect for model making, art projects, DIY, and many other applications. 6 in 1 multifunctional machine for meeting different needs. Mini size for portable and easy operation. Over-current, over-voltage and over-heating protection for more safe. Made of aluminum, carbon steel and ABS for durable use.
Material: Aluminum, Carbon Steel, ABS. Package size:49.5x39x12cm/19.49"x13.35"x4.72. Maximum diameter of processed materials: 20mm (can be increased to 50mm by using intermediate blocks). Center height: 25mm(can be increased to 50mm by using intermediate blocks).
Machinable materials: wood, engineering plastics, soft metal gold, silver, copper, aluminum, etc. It can cut straight and curve lines. Special design will cause slighter vibration. Motor blades and gear are made by metal structure for durable use. Maximum Cutting Thickness: Hardwood- 4mm; Plywood- 7mm; Softwood- 18mm; Aluminum Sheeting- 0.5mm; Plexi-Glass- 2mm.
Slide travel: 30mm and 50mm. Collet size: 1 to 6 mm. Can be converted into a hand drill or hand grinding.
Adjustable angle from 0-180 degrees for flexible useIt can process wood, soft-aluminum, brass, copper, plastics, etc. Equipped with a small grinding wheel and grinding wheel cover, it can be used for polishing, grinding, also can undertake various handheld angle grinding. Maximum diameter of processed materials: 45mm.
Length of processing materials: 135mm. Collect size: 1 to 6 mm.
Adopt a milling cutter for more effective. Milling machine can be transformed to X, Y, Z three dimensional space operation.
Length of Processing Materials: 135mm. The maximum diameter of the processed Materials: 20mm. Maintenance Fix the machine on the board or other table. Shot off the power when not use.
Wear protect goggles when operating the machine. Keep its surface clean and dry, maintain the machine and lubricate the motive parts in time. 1 X 6 In 1 Mini Multifunctional Machine. We have warehouses in the USA. E-mails are answered Monday through Saturday.
Please allow up to 48 hours for a response to your message 3. The item "550W 2500rpm Milling Drilling Machine /6 In 1 Metal Mini Motorized Lathe Machine" is in sale since Thursday, October 31, 2019. This item is in the category "Business & Industrial\CNC, Metalworking & Manufacturing\Metalworking Equipment\Machining Centers & Milling Machines". The seller is "iddmart2011" and is located in Austell, Georgia. This item can be shipped to United States.